In our series of special weeks, we were honored to welcome this time Patricia Moore to our studio.

Patricia Moore has been recognized by ID Magazine as one of the "40 most socially conscious designers" in the world, and is looking to a shining career as Industrial Designer and Gerontologist.
Not only did she start her career by working with Raymond Loewy, but also worked for some of the prestigious companies such as AT&T, Boeing, General Electric and NASA to name a few. Confronting us with the very important questions: Who do we design for?! and "What is old?"
Patricia successfully kicked of a very interesting week of confrontation and debates. Encouraging us to talk to our customers during the process of design rather than assuming what is right for them, to be empathic and doing sound research, was a very helpful lesson and reminded us that we chose to design not only for ourselves but also for people when we decided to become designers.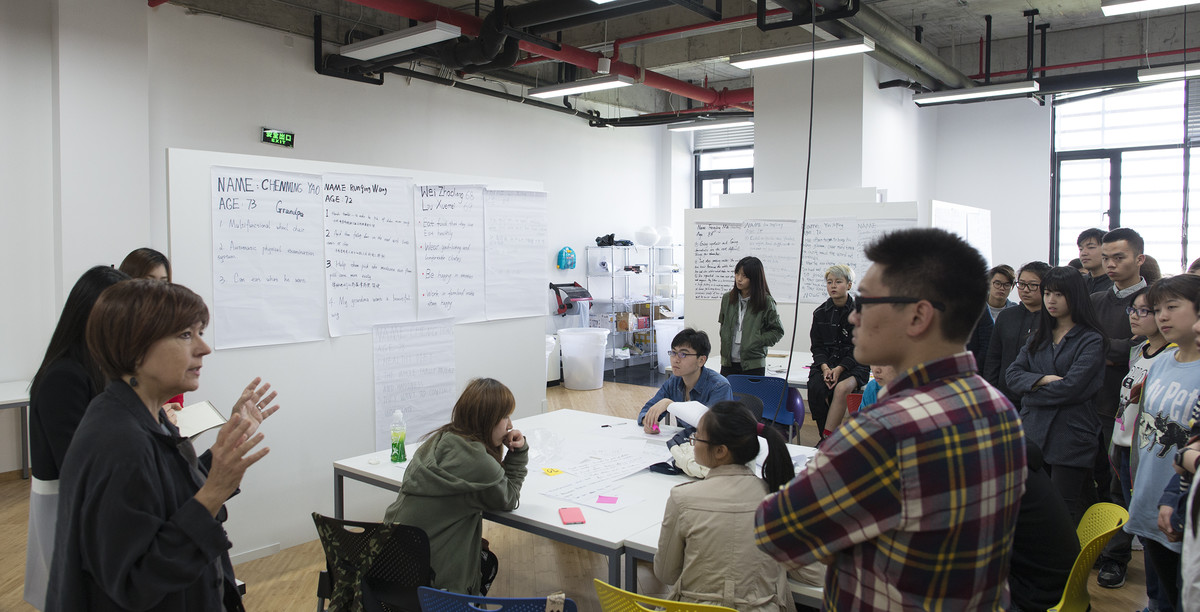 在一系列的工作室特别周活动中,本次我们非常荣幸地迎来了Patricia Moore。
Patricia Moore曾被美国ID杂志评为全球"40位最具社会意识的设计师"之一,并且作为一名工业设计师及老年病研究专家,她的个人事业也相当辉煌。通过与 Raymond Loewy的合作共事,她开创了自己的职业生涯。
她曾与全球诸多颇具名望的公司进行过合作,例如,AT&T,波音,通用电气和美国航空航天局等。目前我们面临的一个重要问题是:"我们在为谁设计?!"以及"年老的概念是什么"。在这有趣的一周里,Patricia Moore成功地向我们提出了对峙并就此展开了激烈讨论。
她鼓励大家在设计的过程中要多和顾客沟通,而不仅仅是猜测什么是适合他们的,或者一味设身处地去做科学的研究。同学们从这堂课中获益颇多,她还时刻提醒我们:在我们决定要成为一名设计师时,我们就应该了解,我们选择设计并不只是为了自己,也为了人类。